2013 Cherry Blossom Rokkaku Challenge
Featured Post
on
March 31, 2013
at
11:56 am
3rd place!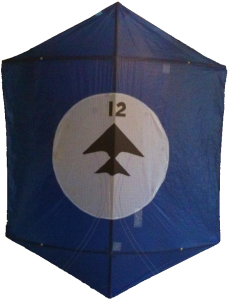 We held first place through the first two heats! This was an impressive showing after a year without any practice at all. The field presented 9 teams, including Jim Cosca, Harold Ames and Charlie Don't Run; we'll add more detail later.
Kalika and Complex flew the kite on the field, while Chrooke kept the score and Safeties Ironkite and Lady Vader chased fallen kites. We took an early lead by cutting one down and lasting to the end of the first heat; other teams closed the already narrow gap by cutting down more and, in the second heat, lasting longer. We flew Chrooke's Midnight Squadron logo rok, an incredibly responsive and flat-sheeted kite.
One disturbing detail was the presence of a child under 10 on the field, forcing Kalika to take extraordinary measures to avoid garroting the girl while our line was held low by a tangle. [Complex: I'm glad I didn't step on the kid; there's a maturity needed to accept the accidental injuries that can happen in an adult sport.] Kalika proposed to the judge, Mike VanMeers, that children not be allowed as competitors in the adult competition next year.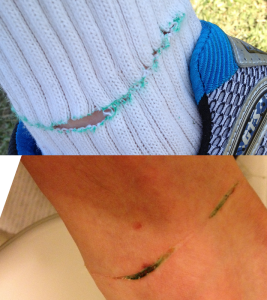 Accidental injuries like severe line burn! Complex has about 2 inches of green plastic melted through his sock and into his ankle. Terrible disasters like Ames' lost kite! Harold used a longer launch than anyone else in the second heat, so when his kite was cut, it fell too far… behind the 10 foot fence surrounding the repair work on the Washington Monument. Hopefully he or the Park Service were able to retrieve the kite yesterday.
Almost all of the fighting roks were hand-made and high quality. As good as the Premier roks are, I think there was only one on the field.
Afterwards, many of us agreed that we need more rokkaku fighting events in the area.